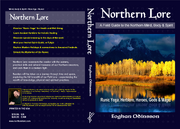 Canadian born Eoghan Odinsson is an award winning journalist and the author Northern Lore: A Field Guide to the Northern Mind, Body & Spirit.
Graduating from the University of Aberdeen in Scotland with his Masters of Science degree, he subsequently taught for the University, and was a dissertation advisor for graduate students.
In addition to his academic background, Eoghan also holds a Black Belt in Shito-Ryu Karate, and has taught Martial Arts in Canada and the USA.
Ad blocker interference detected!
Wikia is a free-to-use site that makes money from advertising. We have a modified experience for viewers using ad blockers

Wikia is not accessible if you've made further modifications. Remove the custom ad blocker rule(s) and the page will load as expected.